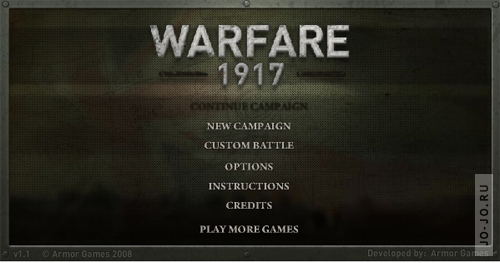 Warfare 1917 is the first game in the Warfare series, and is developed by Con Artist Games and published by Armor Games. It is a strategy game made in Adobe Flash. The game is set during the First World War, where the player, playing as either the British Army or the Imperial German Army, must defeat their enemies.
The goal of the game is to defeat the enemy using infantry, vehicles and fire support. The player can win in two ways: Morale and Conquer. For a Morale victory, the player must decrease the morale of the enemy until their morale bar is empty, causing their troops to surrender. For a Conquer victory, the player must capture the whole battlefield.
In the campaign, upgrades can be purchased with XP, which is earned by killing enemy units. These make units or fire support deal more damage, deploy more quickly, etc. Trenches are available, and serve as cover for up to 3 infantry units. They can be locked to force units to skip the trench and keep moving forward. Mines and barbed wire are present, and act as obstacles to an advance. Mines cause a large explosion that can kill infantry while barbed wire slows them down.
Reception
Edit
Jason Ocampo of IGN stated that the game "captures the insanity that was trench warfare by giving you an idea of what attack and defense was like". E4 gave the game a rating of 89%. The game received a 4.4/5 rating at Newgrounds. At the Flash Gaming Summit 2009, it was nominated as the best strategy game.
Con Artist Games released a sequel to the game called Warfare 1944. Set during the Second World War, the player finds himself playing either as the US Forces or as the Wehrmacht.
References
Edit
5. Warfare 1917 - Official Website